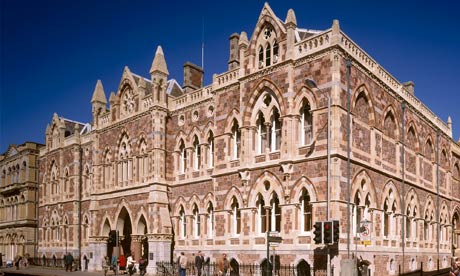 Source: Guardian.co.uk
What do the Watts Gallery, The Hepworth in Wakefield and The Scottish National Gallery have in common? None of the are
Museum of the Year
; that title belongs to Exeter's own
RAMM
who also scooped a £100,000 Art Fund Prize!
Chair of Judges, Lord Smith of Finsbury, said of the Museum,
"The new Royal Albert Memorial Museum is quite simply a magical place. The Victorian aspirations to bring the world to Exeter are stunningly realised through some of the most intelligently considered displays on view in any museum in the UK. Every exhibit delights with a new surprise, and provokes with a new question, and at a time when local authority museums in particular are in such danger, this brilliant achievement proves how daring, adventurous and important such institutions can be."
I couldn't be prouder of the
Gerald
and the gang! Everyone in town has known how great the museum is since it reopened. More than 200,000 people have been through it's big Victorian doors since December and I can't say enough about the
Cafe
scran from
Dartmoor Kitchen
. But it's amazing to awesome hearing everyone else say it so eloquently.
My favourite quote is from Guardian reporter and competition judge
Charlotte Higgins
who said:
"Again and again, I felt that the museum had been put together not only by people of real intellectual rigour, but by those who understand that, at heart, the museum is a place of wonder, and of emotion. It is a curator's museum.
The real miracle in all this is that RAMM is run by the [Exeter City Council]. Many local-authority museums, and in larger, richer cities than Exeter, are neglected by careless, incompetent or plain cash-strapped councils. RAMM, however, stands as a shining example of a museum that is cared for by the public realm, and cherished as a civic good at the heart of municipal life"
I love it when a plan comes together.
Good on ya Gerald!